Building the Best Workforce
We work hard to ensure that INSTAPLAST is a rewarding place to work. We have a flat organizational structure. We encourage an entrepreneurial culture where talent can quickly rise to the top and where people are rewarded for taking the initiative, as well as for great performance. Fresh thinking and new ways of doing things are critical to our ongoing success and are key to innovation in more sustainable products and processes.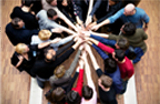 As we grow, new training programmes are developed which include our modern apprenticeship schemes and ongoing training for our technicians, executives and leadership teams. Our aim is to attract and develop talented employees to drive our business forward and meet the changing needs of society and our customers.